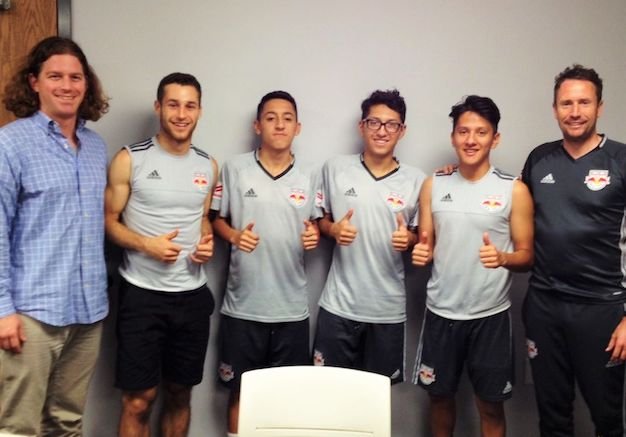 HANOVER, N.J. – The New York Red Bulls Academy has initiated a program aimed to prepare its players with SAT preparation courses through Embrace Tutoring & Educational Services.
The program takes place from 6 to 7:30 p.m. every Wednesday for 10 weeks, covering both English and Math. Following tutoring, the teams train from 8 to 9:30 p.m.
"The Red Bulls are committed to providing the best environment for our players to fulfill their potential – we are sensitive to the life our young athletes lead and work to provide the best supporting network for players to develop in," said Simon Nee, New York Red Bulls Academy coach. "The SAT Tutoring Program is the first step in the club's Academy Blended Learning Environment, enabling student–athletes to excel both on the field and in the classroom."
Fifteen members of the Academy's U-16 and U-18 players have been utilizing access to tutors by Embrace Tutoring at the Red Bulls Training Facility.
"Embrace Tutoring is excited and honored to be the official test prep provider for the New York Red Bulls," said Anthony Weinkopff, Co-Founder and Director of Curriculum and Programs at Embrace Tutoring. "While the short-term goal is higher SAT scores for these student athletes, ultimately the overall goal of this partnership is to educate the students and parents about academics, test prep, and college admissions and to increase the student athletes' options and opportunities for college admissions and possible scholarships."
The program, which began in August, will conclude on Wednesday, Nov. 2 before their November testing dates. By the end of the 10-week program, players will have totaled 15 hours of tutoring in preparation for the SAT's.