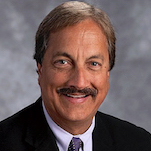 Rick
Personal Statement
The opportunity to teach and mentor students has been, along with parenthood, the most meaningful and joyful part of Rick's life. Immediately after graduating from Williams College with honors in Political Science and Spanish, he began teaching and coaching in a Virginia private high school. Following his Master's program in Education at the University of Virginia, Rick continued to teach or tutor while serving as a college counselor, principal and then the Head/President of two independent schools. He feels that the heart of a teacher's calling is caring for and guiding each student towards the highest vision of who and what they can be in life. His students know that he will expect their best, but also that he is at their side during the learning journey, supporting them unconditionally and with dedication and humor. He says that with that "safety net" beneath them, students are more willing to take intellectual risks, respond to challenge, and grow. Rick looks forward to a personal connection with students and their families. On a personal note, he is the father of 3 grown children, and the grandfather of two baby grandsons. He plays keyboard in a classic rock band, admitting that his musical taste is "pretty much stuck in the '60's, '70's and '80's." He loves the beach, golf, Philadelphia sports teams, good discussion, travel (when not in a pandemic), genealogy and dogs--especially Golden Retrievers. Rick is honored to serve students through Embrace!
Education
M.Ed., University of Virginia-1979

B.A., Williams College-1976
Awards and Recognitions
Appointed College Board A.P. Reader (Spanish Language & Literature)

Named "Partner in Service" by TN Commission on National & Community Service-1997

Chosen to be Mentor in Dewitt-Wallace Foundation national program to promote service learning in the U.S.-1994

Appointed member of Ohio Community Service Council by Governor of Ohio-2005

President of Ohio Association of Independent Schools-2003
Testimonials
"While I was a student in High School many years ago, Rick was my advisor and Spanish teacher. During my three years there, Rick and his wife Jane became an important part of my "family" away from home. Rick was an amazing mentor and one of the best teachers I ever had. He was smart, funny, and he had a way of making each of us feel important, regardless of our athleticism, intellect, or other attributes. Every day we wanted to go to Spanish class, and because of him, many of us learned to love the language. After graduation, I returned to High School for two summers while I was a student at Davidson College. I served as a teaching intern in the English department, and Rick ran the entire program for one of those summers. I again had the privilege of learning from him, and those two summers solidified my desire to be a teacher." - Proud Student
Background Check Certified
Yes
Do you want to contact
Rick
?
Contact